WHAT IS PURGATORY?

WHAT IS PURGATORY?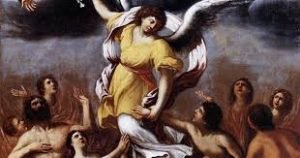 WHAT IS PURGATORY?
Do we really say that all of us are already fully converted to God by the time we die? Purgatory is the final purification of the elect. Purgatory is a state in which the souls of the dead pass through a process of purification in order to attain the holiness required to enter into the joy of heaven. It is the final opportunity that God gives people to be prepared for full communion with Him.
The way each person lives is irrelevant, and God's saving grace does not do away with justice. Death is not a sponge that wipes out all our sins and the evil we have committed. Rare are those who are so purified at the moment of death that they may enter directly into the presence of God.
When a person dies, their life option becomes final. There may be persons who have led a very pure life and die entirely purified and in the grace and friendship of God. The Church teaches that such people go immediately to heaven.
On the other extreme of this case, there may be those who died after committing grievous sins and without repenting and accepting God's merciful love. These passes to the definitive state of self-exclusion from communion with God called Hell.
Observing the above two situations, it is not hard to see that neither is the most common. The heart of man is constantly struggling against its limitations and denials in fully receiving God's love.
In his encyclical Spe Salvi, Pope Benedict XVI acknowledges that there is in the great majority of people "an ultimate interior openness to truth, to love, to God."
However, he says, in the concrete choices of life, this openness to God "is covered over by ever new compromises with evil—much filth covers purity, but the thirst for purity remains" (No. 46).
Even those who seek to live their lives in friendship with God are not entirely free from the presence of some disorderly inclinations, flaws in their human constitution, i.e., characteristics that are incompatible with the holiness of God.
So many times, what we call virtue is actually only a devotion to one's own "self"; often, prudence actually reveals a form of cowardice; virility may actually be arrogance; frugality may be avaricious; and charity, a form of extravagance (Schamus, "Katholische Dogmatik" IV 2). Quite often, selfishness, pride, vanity, neglect, and infidelity settle into our hearts.
So Benedict XVI asks: "What happens to such individuals when they appear before the Judge? Will all the impurity they have amassed through life suddenly cease to matter?" (No. 46)
The Pope has in mind here the question of justice. God's grace—his gratuitous help—that saves man does not exclude justice. Grace is not a sponge that wipes away everything that was done wrong in the world so that in the end, everything ends up being of equal value (No. 44).
The interpenetration of grace and justice teaches that "our way of life is not insignificant", that is, that evil and sin committed are not simply forgotten. Catholic teaching states that in death, people still have an opportunity to purify themselves and reach the level of holiness necessary to enter heaven. Purgatory is precisely this state in which the souls of the dead are purified. This is not a torture chamber and it should not give rise to fear. Purgatory is a final opportunity for people to become complete and evolve to their being's ultimate possibilities.
Evil in this world and in our hearts is not only forgotten in death. God is not only grace; he is also justice. And in the end, all people endowed with freedom are responsible for their choices and attitudes.
Thus, those who die in grace and friendship with God, but who are not completely purified have the opportunity to go through this purification after death.
Catholic teaching believes that the destiny of man in death does not reach a static endpoint of evolution. In other words, man can continue on a path of improvement—conversion, and purification—after death.
This is the person's final conversion. Before God, in death, each one must radically relinquish all pride and selfishness, surrendering unconditionally to the Lord, putting all hope in Him. We must abandon everything that makes it impossible to love God with all our hearts.
This last act of human evolution, the ultimate conversion, and purification to plunge into communion with God, which the Church calls purgatory.
"It is precisely in death and in the encounter with God that each person will see, with an intensity never experienced before, the meaning of the life he lived. And depending on what the person has done during this life, also depending on what they have done to other people and the structural and historical situations of their life, their union with God will also be connected to a purification that may be more or less painful," affirms theologian Renold Blank in his book Eschatology of the Person.
This purification is the last chance given to man to fulfill God's plan, as we are "conformed to the image of his Son, so that he might be the firstborn among many brethren" (Romans 8:29).
Thus, purgatory should not be seen as a cosmic torture chamber and should not cause fear. At the bottom, Purgatory is "a new and repeated act of God's salvation, so that that man can be saved" (Blank).
What God offers through purgatory is a stage for people to become complete, to evolve to the final possibilities of their being, achieve the full realization of all their capabilities, and thus become able to enter Heaven and God's holiness.
The fire image associated with purgatory can be interpreted as Christ himself, who comes to save us. In our meeting with Him, all falsehood melts away, and his gaze heals us through the fire.
About the image of fire associated with purgatory, Benedict notes that "some recent theologians believe that the fire which both burns and saves is Christ himself, the Judge and Saviour" (Spe Salvi, No. 47).
In the gaze of Christ, all falsehood melts away. "This encounter with him, as it burns us, transforms and frees us, allowing us to become truly ourselves."
All that we build during our lives can prove to be mere straw, pure bluster, and it collapses. Yet, "in the pain of this encounter, when the impurity and sickness of our lives become evident to us, there lies salvation."
His gaze, the touch of his heart heals us through an undeniably painful transformation ' through fire.' But it is a blessed pain, in which the holy power of his love sears through us like a flame, enabling us to become totally ourselves and thus totally of God."
Benedict XVI explains that the sin of man has been burned away through the Passion of Christ. And at the moment of judgment, "we experience, and we absorb the overwhelming power of his love over all the evil in the world and ourselves."The doctrine of purgatory is a logical consequence of the biblical idea that God requires expiation for sin. It is based on certain passages of Scripture, Church tradition, and the practice of prayer for the dead. This idea was systematized starting at the Second Council of Lyons in 1274. Pope Benedict XVI covered it in his encyclical on Christian hope, Spe Salvi (2007).
The word purgatory refers to a theological concept developed in the Middle Ages in the West. It refers to the state of the dead souls in a temporary form due to not being ready to enter God's vision immediately.
It is based on certain passages of Scripture, Church tradition, and the practice of prayer for the dead. This idea was systematized starting at the Second Council of Lyons in 1274. Pope Benedict XVI covered it in his encyclical on Christian hope, Spe Salvi (2007).
Catholic thinking sees the dogma of purgatory as a logical consequence of the biblical doctrine according to which God requires man to make personal atonement for wrongdoing.
In the Old Testament, the most significant passage to illustrate this idea is 2 Mac 12:39-46, in which Maccabaeus "ordered the celebration of an expiatory sacrifice for the dead, that they might be absolved of their sins." In 1 Cor 3:10-15, Paul speaks of salvation "as through fire."
By the fourth century, the belief in purgatory was attested by the prayers that Christians said for their dead: prayers for the souls who had not yet entered heaven and who could be helped by the living faithful.
St. Augustine and other great theologians of the early Church indicate the existence of expiatory punishments after death. In this context, the Pauline text that speaks of salvation "as through fire" is often cited.
Faced with a growing interest in the subject of Purgatory in the Middle Ages, the Church's Magisterium has structured this doctrine.
The Second Council of Lyons (1274) speaks of "purgatorial punishments." The Council of Florence (1438) also points out a purification after death through "purgatorial punishments." But it is the Council of Trent (1547) that explicitly defines the doctrine, saying that sin brings a penalty that must be atoned for "either in this world or in the next, in purgatory."
It is, therefore, a Catholic doctrine that was not accepted by the churches of the East nor by Protestants.
The most recent teaching of the Catholic Church reaffirms the doctrine of purgatory. The Catechism of the Catholic Church (1992) points to its foundation in the Scriptures, the councils, and the practice of prayer for the dead. The Pope also discusses the topic in his encyclical on Christian hope.

Copyright secured by Digiprove © 2020-2022 meline Ngo