Baked By Debauchee
.
Baked By Debauchee
By. Meline C. Ngo
.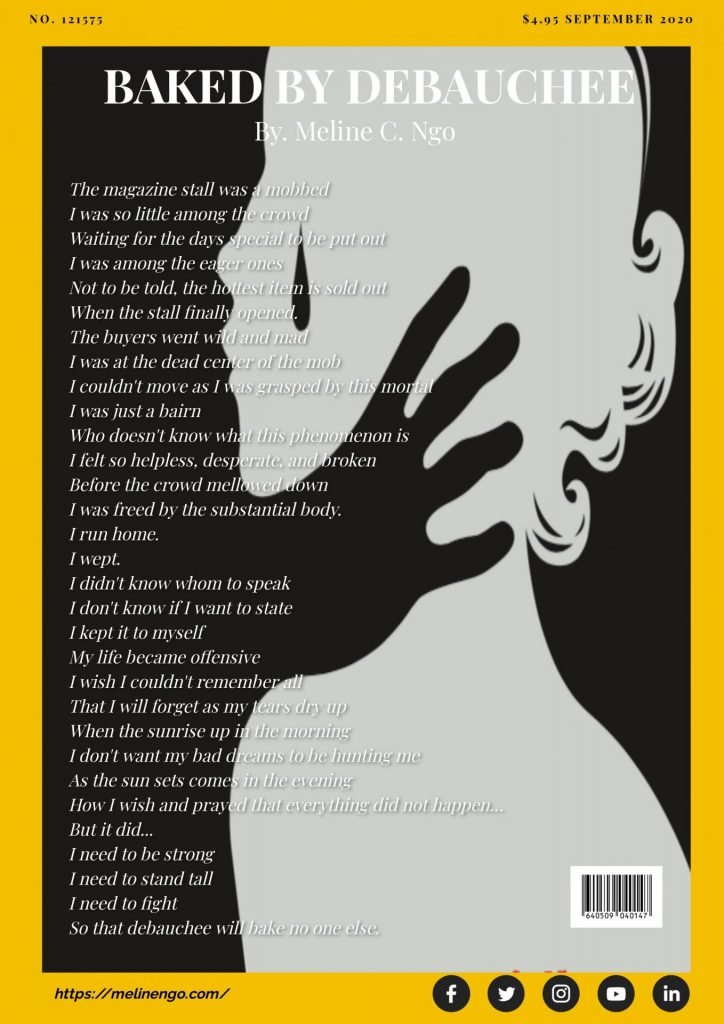 Baked By Debauchee
By. Meline C. Ngo
The magazine stall was a mobbed
I was so little among the crowd
Waiting for the days special to be put out
I was among the eager ones
Not to be told, the hottest item is sold out
When the stall finally opened.
The buyers went wild and mad
I was at the dead center of the mob
I couldn't move as I was grasped by this mortal
I was just a bairn
Who doesn't know what this phenomenon is
I felt so helpless, desperate, and broken
Before the crowd mellowed down
I was freed by the substantial body.
I run home.
I wept.
I didn't know whom to speak
I don't know if I want to state
I kept it to myself
My life became offensive
I wish I couldn't remember all
That I will forget as my tears dry up
When the sunrise up in the morning
I don't want my bad dreams to be hunting me
As the sun sets comes in the evening
How I wish and prayed that everything did not happen…
But it did…
I need to be strong
I need to stand tall
I need to fight
So that debauchee will bake no one else.

Copyright secured by Digiprove © 2020 meline Ngo