Antarctica's Catholic Ice Chapel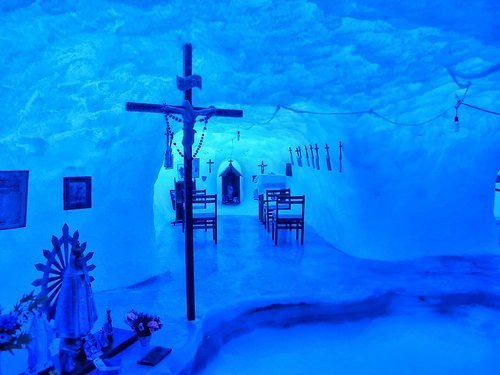 Then the church throughout Judea, Galilee, and Samaria enjoyed a time of peace and was strengthened. Living in the fear of the Lord and encouraged by the Holy Spirit, it increased in numbers. As Peter traveled about the country, he went to visit the Lord's people who lived in Lydda.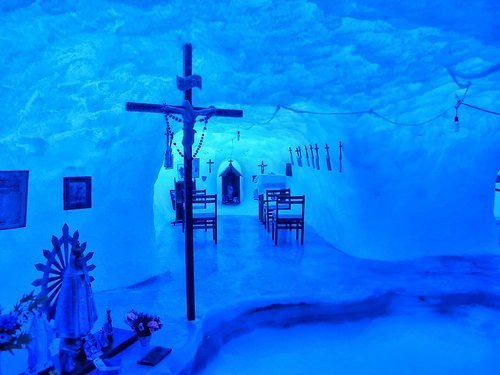 Antarctica's Catholic Ice Chapel
Antarctica is an amazing giant continent at the south pole of our globe. Braving winter temperatures of over a hundred degrees Fahrenheit below zero, a few thousand people live there at any given time. Like most people, they have spiritual needs; there are several chapels at various government bases.
It just so happens that the southernmost chapel is a Catholic chapel at the Argentinian Belgrano II Base. And it has a unique attribute: it is carved out of pure ice.
That's right, and it's in a permanent ice cave.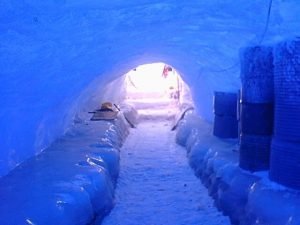 The first Belgrano base was built in the 1950s but had to be abandoned since the ice on which it was built wasn't stable enough. Finding good places for permanent bases is tough since 98% of Antarctica is covered in ice. Fortunately, the Argentine government found a hectare of ice-free land close by, and Belgrano II Base was opened in 1979.
Nonetheless, people dug out a tunnel system in some ice nearby and built a Catholic chapel inside. It is still apparently used by scientists working on the base today.
Here is what the entrance to the tunnels looks like:
And here's what part of the tunnel system looks like inside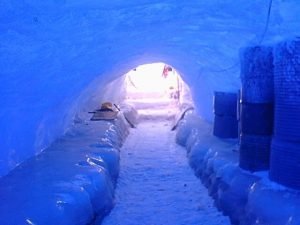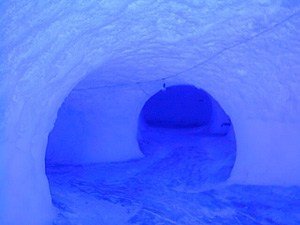 And here are some more pictures of the chapel:
This cave church with walls made of ice is the Southernmost place of worship of any religion in the world. It is the permanent Catholic church for an all-year-round Argentinian base and scientific research station founded in 1955 on Coat's Island. As a result of its latitude, both day and night here are four months long, and the night sky often displays the Aurora Australis.
Argentina's Belgrano II Base on Coat's Island is the southernmost house of worship — of any religion — and is entirely made of ice blocks. Built-in 1955, it's used year-round by the scientists, soldiers, and staff of the Argentine military base and research station on the island. A wedding was conducted in the chapel on January 29, 2007, for two researchers, a Chilean and a Russian.
Let them give thanks to the LORD for his unfailing love and his wonderful deeds for mankind, for He satisfies the thirsty and fills the hungry with good things (Psalm 107:8-9)

Copyright secured by Digiprove © 2020-2022 meline Ngo
Acknowledgements: Credits and thanks to:
NATIONAL CATH more...