Who was Santa Claus? Quick Facts about the Legendary Saint
I have shown you all things, how that so laboring ye ought to support the weak, and to remember the words of the Lord Jesus, how he said, It is more blessed to give than to receive.

Who was Santa Claus?
Some quick facts about the Legendary Saint
He didn't live at the North Pole, but he was a jolly old man who was known as a gift-giver.
The legendary figure of Santa Claus has gone through many revisions over the centuries. However, while the modern-day character of St. Nick is far removed from the original person he is based on, he still contains much of the "spirit" of the 4th-century saint.
Here are a few quick facts about the beloved Christmas figure, who was once an inspiring bishop who gave gifts to those in need.
St. Nicholas was a 4th-century bishop of Myra, located in modern-day Turkey….
He secretly gave bags of coins to three unmarried girls to protect them from prostitution (and was celebrated as a gift-giver on Dec. 6)
The Dutch called him Sinterklaas.
The English thought they said, Santa Claus
His gift-giving feast (Dec. 6) merged with Christmas in the 20th century….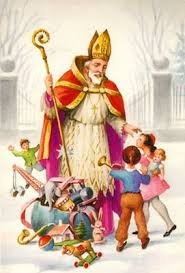 A Prayer to Saint Nicholas
O good St. Nicholas,
you who are the joy of the children,
put in my heart the spirit of childhood,
which the gospel speaks, and teaches me to seed happiness around me.
You, whose feast prepares us for Christmas,
open my faith to the mystery of God made man.
You good bishop and shepherd,
help me to find my place in the Church
and inspire the Church to be faithful to the Gospel.
O good Saint Nicholas, patron of children, sailors and the helpless,
watch over those who pray to Jesus, your Lord and theirs,
as well as over those who humble themselves before you.
Bring us all in reverence to the Holy Child of Bethlehem,
when true joy and peace are found.
Amen.

Copyright secured by Digiprove © 2020 meline Ngo
Acknowledgements: Thanks credits and gratitude to:
The more...